Welcome to Weekly Find!
Do you like to hunt for bargains,deals and sales? What about browsing online for gorgeous designs, fabrics, photos, shoes, jewelries, etc? Do you love taking photos? Do I need to say more?
In other word, something you find interesting for the week.
Well, then - this is for you! To join anytime, on any day, leave a comment here so I can add you on the list.
This
WEEKLY FIND
will officially start on the week of
September 19-20, 2009
.
Weekly Find Rules
Every weekend (Saturday-Sunday), post a photo of your Weekly Find on your blog.
Include one of the Weekly Find buttons (scroll down below) in your post, just copy the code of the button and paste it in your blog.
Each week at my Weekly Find post, sign MckLinky with the name of your blog and direct link to your Weekly Find post. I will post mine on Friday night, which means you can start adding your link on Mr. Linky that Friday night until Sunday evening. After that MckLinky will be close. Don't forget to leave me some love in the comments.
Visit the other participants so we can all share in on the love and great find!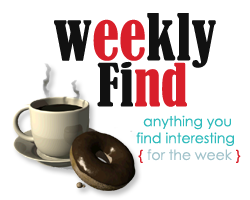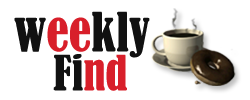 SMALLER BADGES